JOCK WHITE MEMORIAL FIELD DAY:




The Jock White Memorial Field Days contest is an annual NZART Contest for NZART Branches and members. The objectives of the contest are for NZART Branches and Members to contact as many others as possible during each operating period of the contest.

The Contest is held during the last full weekend in February each year, and there are 9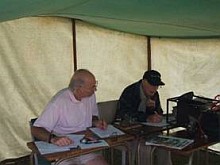 operating periods on each day of the contest.

This year 2023, the Contest will take place as follows:-


Saturday/Sunday, February 25/26



Saturday 1500 -2400 NZDT
Sunday 0600 - 1500 NZDT

The Contest takes place on both 80 and 40 metre bands using both Morse and voice modulation.

Further details can be found on the NZART website.

The intention of field days is for Branches to operate from a portable setup. Branch 12 uses 2 tents; one for 80M and one for 40M. Power requirements are obtained from 2 portable generators and a number of sealed lead acid batteries.

The rigs used are a Kenwood TS-430S (below) on 80M and a Yaesu FT-747GX and an Icom IC-718 on 40M.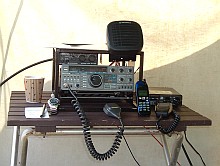 Branch 12 uses 2 dipole antennas for Field Days. Both antennas used are multi band (80/40) dipoles with plug in links to change bands/frequencies.

The 40M antenna was specifically designed for Awards Net frequencies, thus 7.06MHz is one cut. This makes it ideal for 40M Operation.

The 80M antenna is cut for 3.55MHz, 3.85MHz and 7.1MHz, and therefore using the full length antenna (3.55MHz) makes it ideal for Field Day Operation.